Our advisors are seasoned professionals who are currently working in the Jewish nonprofit sector. They have experience working with early career professionals, and they are reliable and thoughtful. Each is a talented generalist on career issues, and each is committed to maintaining the highest level of confidentiality.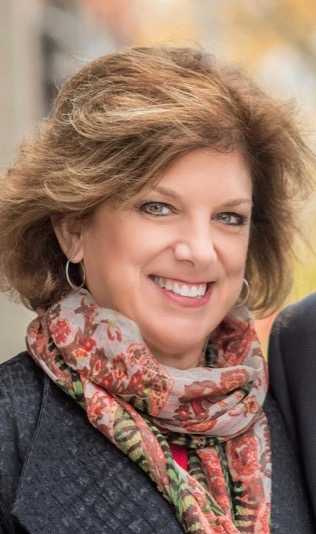 Robin Axelrod is CEO of Axelrod Consulting Group where she focuses on executive coaching, and staff and board development. She also serves as Senior Education Specialist at the Holocaust Memorial Center (HMC) in Metropolitan Detroit and as a national trainer for Echoes & Reflections, the preeminent Holocaust curriculum created by Yad Vashem, ADL, and the USC Shoah Foundation. Robin previously directed the University of Michigan's Sol Drachler Program in Jewish Communal Leadership, and held clinical faculty positions at Michigan's School of Social Work and Frankel Center for Judaic Studies. In addition to her professional work, Robin was appointed to the State of Michigan's Governor's Council of Genocide and Holocaust Education, and serves on numerous local and national boards. Robin graduated from the University of Michigan with a BA in Judaic Studies. She also received a JD from Wayne State University and, as a Wexner Graduate Fellow at Michigan, she earned an MSW and Certificate in Jewish Communal Service and Judaic Studies. Robin is married to Brad, a neuropsychologist and a mensch of the highest order. Their greatest contributions to the Jewish community are their sons, Robert and Ari.
Judith Belasco is the Executive Vice President at Hazon. In this role, she oversees the growth and development of Jewish Outdoor, Food, Farming, and Environmental Education (JOFEE) through transformative experiences, thought-leadership, and capacity-building. She brings to the role experience with staff development and training, new program expansion, and evaluation-based program improvements. Prior to joining Hazon in 2007, Judith was the Program Coordinator at Linking Food & the Environment (LiFE) at Teacher's College, Columbia University. Judith is a Registered Dietitian Nutritionist and currently a Wexner Field Fellow. She graduated with a Masters of Science in Nutrition and Public Health from Columbia University and holds a Bachelors degree in Urban Studies from Vassar College. Judith lives in Hastings-on-Hudson, NY with her husband and two children.
Joy Brand-Richardson is Vice President of Professional Development at JCC Association. A leader and innovator in the JCC field for over 30 years, Joy develops professional training seminars across the US and Canada, including the Bi-Annual JCC Professional Conference, regional trainings and webinars. Joy is the director of cohort learning programs which focus on leadership enrichment and advancement for high potential staff, thus, building the pipeline of strong professionals in the Jewish Community. Additionally Joy is the co-creator of the Talent Management Program, an assessment tool providing valuable information to over 450 individuals as they expand their professional skills. As a key note speaker, workshop leader, career coach and consultant Joy has trained thousands of Jewish Communal professionals and guided numerous JCCs in improving work place culture. She has written published works on the topics of workplace conflict resolution, customer service excellence, relationship building and succession management.
Joy holds a Master's Degree and has completed additional course work in communications, personnel management and career coaching. She is a proud recipient of the JCC Association Graduate Scholarship, a program she is responsible for overseeing.
Jodi Bromberg has been a part of InterfaithFamily since October 1, 2013—the day that the Pew Report on Jewish Americans came out—and became InterfaithFamily's CEO in 2015. She has written for numerous publications, and spoken at conferences, synagogues and Jewish institutions around the country about the importance of creating comfortable, inclusive spaces for interfaith families in Jewish life. Jodi lives outside of Boston with her wife and twin boys, where she remains a diehard New York Yankees fan. Prior to joining InterfaithFamily, Jodi was a corporate attorney in the Philadelphia area, and is a proud graduate of the University of Pennsylvania and the Temple University Beasley School of Law.
Julie Finkelstein is the Director of Leadership Development at Foundation for Jewish Camp where she works on programs that support Jewish camps and their leaders across North America. Prior to joining the FJC team, she was the Associate Director of Slingshot, where she managed a network of next-generation funders, innovative Jewish organizations and entrepreneurs. Previously, Julie was the Assistant Director of Capital Camps, the Jewish community camp of the Mid-Atlantic region and got her professional start with Hillel: at Maryland Hillel and at Hillel's international offices in DC. Julie earned her MBA from the George Washington University as a Wexner Graduate Fellow & Davidson Scholar, and a BA in Anthropology from the University of Maryland. In between being Jewish Camp's most enthusiastic ambassador and traveling to places near and far, you can find Julie at her home base in Brooklyn, NY.
As the Vice President of Talent Acquisition for Hillel International, Carrie and her team are responsible for the strategy, recruitment, hiring, best practices, and onboarding of Hillel professionals. She has spent her 20 year career, developing talent, supervising staff, and building community. Carrie began her career at the 92nd Street Y as the Teen and Camp Director which led to roles in senior and executive leadership at JCCs in Florida & NJ, and at Columbia/Barnard Hillel. She is a graduate of the University of Massachusetts, Amherst and has an MSW from Yeshiva University's Wurzweiler School of Social Work. A licensed social worker, Carrie is a board member of JPRO, the JCC of Central NJ and she serves as a Standards Visitor for the American Camp Association. She lives in the Greater MetroWest Area of New Jersey with her husband Adam and their kids, Gabrielle & Jacob.
Throughout her eighteen year career, Andrea has worked in the non-profit world, primarily in the Jewish Federation movement. She spent six years at Federation CJA (Montreal) including serving as Director of the Israel and Overseas Department. At the UJA Federation of Greater Toronto, amongst her many responsibilities, Andrea was responsible for major gift fundraising and corporate partnerships, significantly increasing giving. Working for UIA Federations of Canada, she successfully consulted with communities across the country and provided an extensive demographic study. Prior to joining the Jewish Federation of Ottawa and Ottawa Jewish Community Foundation as President and CEO in 2013, Andrea served as Vice President of Philanthropy and Operations at Mount Sinai Hospital Foundation in Toronto overseeing all operations, annual fundraising, legacy giving and events.
Andrea Greenblatt is the Managing Director of OneTable. She has 20+ years of non-profit experience in administration, finance, human resources, and program management for local and national service organizations. Andrea's most recent position was as VP for Operations at Re:Gender (formerly, National Council for Research on Women) a national gender justice organization. Prior to joining Re:Gender, she worked in the Homeless Services Department of the American Red Cross of Greater New York and at the Food & Hunger Hotline. Andrea has been the Co-Chair of the Education Committee of Kolot Chayeinu and a Girl Scout Troop leader for several years. Andrea lives in Brooklyn with her husband and daughter.
Rachel Jacoby Rosenfield is Executive Vice President at the Shalom Hartman Institute of North America, where she shapes the vision and strategy, leads the staff, oversees programs and operations, and develops the culture.
Rachel is a teacher, writer and speaker—skills honed early as a scholar of literature and developed throughout her career as an educator. Previously, she was Director of Experiential Education at the American Jewish World Service, and the founding director of the Jewish Greening Fellowship. She currently serves on the board and Executive Committee of Girl Be Heard and as an advisor for WellAdvised. She was a fellow in the national Selah Leadership Program and is a graduate of the Muehlstein Fellowship for Jewish Professional Leadership and earned her M.A. in Comparative Literature at the University of California at Berkeley. Rachel lives in Riverdale, NY with her husband Paul, a psychiatrist, and their two teenage children.
Jonathan Lev joined the Boulder JCC in 2010 as the Executive Director. Under his leadership, the Boulder JCC successfully embarked on a $30M capital campaign to build a new campus for the community which opened in June 2016. Jonathan is a passionate educator and entrepreneur who combines his experience as a camp director and work at Renewable Choice Energy to influence his leadership as a nonprofit executive. He was certified as a high school teacher and graduated Summa Cum Laude with a BA in theoretical mathematics and diploma in education from CU Boulder. He was selected as a Taub Fellow at NYU in the dual-master's degree program for a Master in Public Administration in Nonprofit Management (MPA) and Master in Hebrew and Judaic Studies (MA).
As Chief Operating Officer at Sefaria, Annie Lumerman is involved in everything except the coding! She manages a $4M budget; supports 21 FTEs (and growing); shapes organizational strategy; and works with funders from across the Jewish world — from foundations to enthusiastic Sefaria users making whatever personal contributions they can. Before joining Sefaria, Annie founded Generate Change, a nonprofit consulting practice; served as the Director of Jewish Programming at Sixth & I; and worked in the development department at the US Holocaust Museum. Having benefited from years of mentoring and coaching herself, Annie is excited to help professionals think beyond the job description and innovate. Annie is a graduate of Washington University in St. Louis and currently resides in the Bay Area with her family.
Aliza Mazor is the Chief Field-Building Officer for UpStart, a national enterprise that partners with innovators to re-design the experience and expression of Jewish life. In this role, Aliza facilitates learning across organizations and spearheads Collaboratory, an annual gathering of innovators. Prior to joining UpStart, Aliza was the Executive Director of Bikkurim: Advancing New Jewish Ideas.
Aliza has also worked as an independent consultant to non-profits and philanthropies in many fields including social entrepreneurship and community development.
A Chicago native, Aliza spent fifteen years living and working in Israel and holds an MSW in Social Welfare Planning from the Paul Baerwald School of Social Work at Hebrew University in Jerusalem. She currently lives in New York City.
David serves as a Director for the Charles and Lynn Schusterman Family Foundation. Based in the Washington, D.C. office, David advises Co-Chairs Lynn and Stacy Schusterman on how to best leverage their investments in existing organizations and take new initiatives to scale. While some may know him for his semi-pro guitar skills, David's true calling card is his hands on approach to his philanthropic portfolio: David spends much of his time working directly with organization staff and board members to help build their team's capacity, develop long-term strategy and grow as integral players in common ecosystems. Prior to arriving at Schusterman, David's career took him across the country, from his hometown of Binghamton to streetwise Brooklyn, misty San Francisco and the hidden gem that is Tucson, AZ. Notably, David served as Executive Director at the Edgar M. Bronfman Center for Jewish Student Life at NYU, Hillel at New York University, and, in 2011, received NYU's Hallmark Award for outstanding university administrators. David was also part of the Hillel staff at The University of Arizona and Stanford. David received his BS in Marketing from the Smeal College of Business Administration at Penn State University, and an Executive MPA from NYU Wagner. He now resides in Potomac, Maryland with his amazing wife and two adorable kids.
Debra Shaffer Seeman feels blessed to go to work each day as the Network Weaver for Prizmah: Center for Jewish Day Schools. A former head of school, Debra brings a depth of experience in nurturing learning communities, building institutions, and network weaving. As an avid teacher of Jewish texts and educational entrepreneur, she has served in a variety of educational settings in Israel and North America including RAVSAK, Pardes Institute, Tal Torah, Melton, Rambam Atlanta Day School, and Yeshiva Atlanta HS. She is a proud graduate of both Mandel Jerusalem Fellows and Harvard University. A mother of four, Debra is married to Professor Don Seeman.
Adam Silver is the Chief Executive Officer of Calgary Jewish Federation and Calgary Jewish Community Campus Corporation in Alberta, Canada, where he is responsible for leadership and oversight of the community's fundraising, allocations, campus development, and community planning activities. Prior to that, he served as Executive Director of The Betel Centre, a Jewish social service agency for older adults in Toronto. As an adjunct professor in Seneca College's Community Services department, he taught community practice, casework, and social policy. Adam received his M.Ed. in Adult Education and Community Development from the University of Toronto (OISE), and completed graduate work in philanthropy and development at St. Mary's University of Minnesota. A current professional highlight is Adam's selection to the inaugural cohort of the Mandel Nonprofit Institute's Executive Leadership Program.
Jacob Solomon serves as the President and CEO of the Greater Miami Jewish Federation and has been its chief professional officer since 1992. Nationally, Jacob served two terms as President of JPRO Network. He has also held leadership positions in the World Council of Jewish Communal Service, and is actively involved with the Jewish Federations of North America and the Jewish Agency for Israel.
Jacob trained at the Jewish Federations in New York and Philadelphia while a student at Yeshiva University's Wurzweiler School of Social Work, where he received his Master's in Social Work degree. He began his studies in Jewish communal service as a recipient of a FEREP scholarship. He also holds undergraduate and graduate degrees in East Asian Studies from the University of Pennsylvania. Jacob and his wife, Dr. Mindy Hersh, are the proud parents of three children and three grandchildren.